Karaoke Hosting Software Basics
If you are a professional karaoke host, and still using discs, you have likely thought about making the switch to a computer karaoke system. You home users may me thinking the same thing. Perhaps you are worried that you are not "computer savvy" enough to install and operate a computer based system. You might be surprised at how uncomplicated it really is. Most of you have a general idea of what a computer karaoke system is. To summarize it is basically replacing your disc player with a laptop computer, moving all the songs from your CDG discs to a hard drive, and playing them with karaoke hosting software. Ripping the songs from your CDG discs to the MP3+G™ format is covered on the
Transfer CDG Song Tracks to a Hard Drive
page of this site so here we will focus on the karaoke hosting software. The hosting software has features that are not available on karaoke disc players. Features like automatic singer rotation, singer history, song search, and next singer display, are just a few. All in all it will make your shows more professional and more enjoyable to run. There are several karaoke hosting applications available with each having some unique features and learning curves. In my opinion the
JustKaraoke hosting software
is the most user friendly while maintaining the most important features. It is also one of the least expensive programs. For these reasons I will be using JustKaraoke as the example here. Make sure that your computer meets the minimum system requirements for the software being installed. In the case of JustKaraoke the requirements are met by most laptops built in the last six years or so. The extended desktop feature is a must for any hosting software. Installing the software is a fairly straight forward process where you just follow the installation program instructions. Now we'll continue with the presumptions that the hosting software is installed and that all the song files are stored on an external hard drive in the zipped MP3+G™ format and are all named with the same naming convention. Having the song files
all
named in a common format like
Artist - Song Title - DiscID
for example is very important.
Importing the Songs into the Database
This will be the first step in configuring the hosting software. The process is to browse to the location(s) of the song files, select one to allow the program to help you select the right naming format, and then import all the song names. Below is a demonstration of the process in JustKaraoke. The procedure is to click the
Import Songs
button and then the
Browse for a Sample
button. Once you locate the folder in the external hard drive that contains the song files you will select one of them and click
Open
and then
Next
.
In the next panel you will select name format of the song. When correct the parts will appear in the proper order in the lower panel section. When done click
Finish
.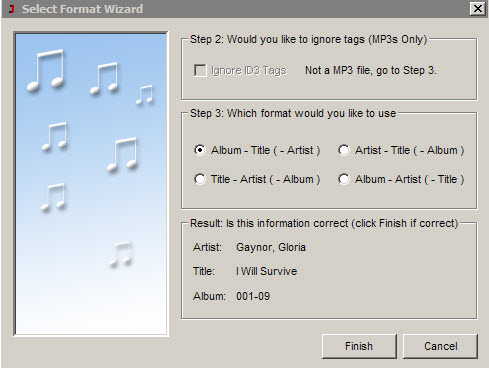 Once again browse to and select the folder that holds the song files and click on OK. After a few seconds all the songs will be imported into the database.
If you have the files in more than one folder you will need to go through the entire process for each folder.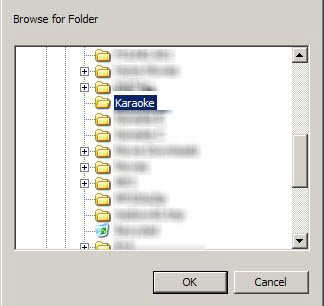 As you see below the songs are now all listed in the program ready to search and be added to the playlist. They can be searched by Title, Artist, or ID. Much better than thumbing through a songbook... don't you think?
Adding Singers and Songs
Once you have searched for and found the song you will double click on it which brings up a box where you will enter or select a singer.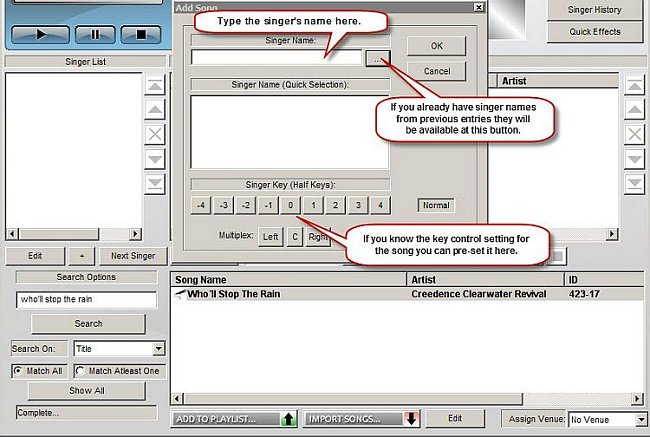 Here you see a short list of singers in the left pane. When you highlight a singer's name the songs that have been entered for them are shown in the right pane. Double clicking on a song title loads it into the player. These names with their assigned songs are saved in the program's
Singer History
once the song has been played. The next time one of these people come to your show you will be able to show them what they sang previously.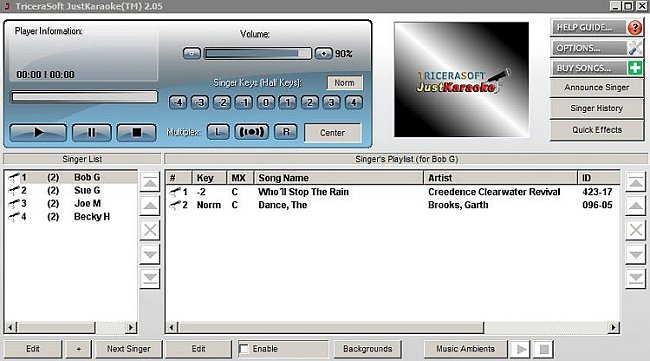 This is not meant to a full tutorial on the JustKaraoke software but rather to give you a general idea of how karaoke hosting software operates. This program, like all the other hosting programs, has many other features that give karaoke shows a more professional quality.
Music Ambients
allow you to play standard audio song tracks (at a pre-determined volume) between singers.
Announce Singer
lets you display next singer's name in a scrolling marquee.
Sound effects
can be played with the touch of a button. With an internet connection new songs can be purchased and added to the library during a show. Many karaoke hosts I have talked to who have changed over from discs to a computer system swear that they would quit the business before going back to discs. I agree with them.
Article by Richard Wise. Follow me on