Building Your Karaoke System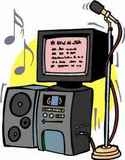 The karaoke system discussed here is meant to be for a professional KJ to use at gigs. If you are building a karaoke system for your home you should move to the
Karaoke at Home
section. This is not meant to be a comprehensive tutorial but rather a guide to start you in the right direction toward building a good sounding karaoke system. There are
seven basic components
to every karaoke system. The player, amplifier, mixer, microphones, speakers, monitor, and music. There are decisions to be made about each of these and hopefully I'll be able to help you with those decisions.
Media Options
First you must decide what type of media you will be using. The karaoke CD+G disc system is still probably the most widely used system at this time although this is rapidly changing. More and more professionals are switching to a computer based system that utilizes a compressed version of CD+G song tracks (mainly the MP3+G™) that is stored on a hard drive and played with a software "
hosting
" program from a laptop computer.
Some advantages of a computer based system:
No discs to store or haul around.
No discs to load into the player.
No more dirty or damaged discs that skip during your show.
Easily find songs with the hosting software's search function.
Run your singer rotation without having to shuffle request forms.
Keep a singer history of all your regulars and the songs they request.
New songs can be purchased individually giving you more control over selection.
Karaoke song library subscription services are available.
Purchased songs may be downloaded from the internet saving time and shipping costs.
---
Player Options
Your three choices are a karaoke disc player, a hard drive player, or laptop with software. Let's take a quick look at all three.
Disc Player
These are valid reasons why
disc players
are losing out to karaoke file players. Discs are a nuisance to handle, store, and transport. They are easily damaged and the slightest scratch or even a fingerprint can cause them to malfunction. Still, many people prefer to use them. Karaoke disc players are typically multi-format machines that will play CD, CD+G, DVD, MP3, VCD, and sometimes other disc types. Basic features are digital key control, microphone inputs, single play, and possibly vocal cancel. Audio output is usually the double RCA connections. Video output varies between machines but will be composite, s-video, HDMI, or a combination of these.
Hard Drive Player
Basically a disc player that contains one or more internal hard drives and some added features. Songs from karaoke discs can be imported to the hard drive(s) via the machine's disc tray or supplied computer software. Once the songs have been copied to the hard drive the disc is no longer needed. Songs will appear on an on-screen menu and are selected by numbered buttons on the machine. Some
hard drive machines
have touch screen support which adds many more features.
Laptop with Software
I think it's safe to say that this is the ultimate karaoke player. No karaoke machine can offer the features of
karaoke hosting software
. A short list of some basic features include song search, singer rotation, singer history, venue history, filler music, dual display, digital key control, and next singer display. All the music will be stored on a hard drive in a compressed format (typically MP3+G). The hosting software will import the song information from the song file titles and create a searchable database. Singer history is an impressive feature when you are able to show a returning singer exactly what they sang at any prior show. Another advantage to hosting software is the ability to (with an internet connection) buy songs during a performance. There are also karaoke song library subscription services that will allow you to have instant access to a selection of over 10,000 popular karaoke songs for a monthly fee. No internet connection is necessary to use these subscriptions at your shows. If you already have a large collection of karaoke discs it will be a time consuming process to rip all the songs from them to a hard drive. Special care needs to be taken to properly name all the song files to avoid future nightmares. Below are some links to helpful articles if you opt for a laptop karaoke player.
Karaoke on a Laptop Computer
Karaoke Hosting Software Basics
The Importance of Properly Naming Karaoke Song Files
Transfer CDG Song Tracks to a Hard Drive

---
Amplifiers and Mixers
The purpose of an amplifier is to provide power to drive the speakers. The purpose of a mixer is to combine and mix the audio output from the player with the vocals from the microphone(s) while making adjustments to the volume and tone and adding effects like reverb. The big 16 and 32 channel mixing boards are better for bands and are overkill for a karaoke system where you are very unlikely to use more than four or five channels. The required amplifier power output depends on the PA speakers being powered. As a rule of thumb the amplifier should provide a total power output of about twice the program power handling of the speakers. Program power is what the speakers are able to handle continuously. For example, if you have two speakers that have a program rating of 300 watts each (total of 600 watts) the amplifier should have a total power output of 1,200 watts. This extra amplifier power is known as "headroom" and is there to cover the transient peaks that speakers can handle. You have three basic options to consider here. Power amplifier and separate mixer, powered mixer, or mixer and active speakers (speakers with a built in amplifier).
Mixer and Power Amplifier
This combination is typically mounted in a rack case. Allows for different brands of amp and mixer to be combined and upgrading either separately is possible.
Powered Mixer
The amp and mixer are combined into a single unit which makes these compact and easily portable. They are available in various power outputs and many have built in effects. Virtually all models offer enough channels for a karaoke system.
Mixer with Active Speakers
A big advantage to this setup is that it eliminates the need to match the amplifier and speakers. You can easily add more active speakers if you need a more powerful system. You can also use light duty speaker cables because they will only carry a low level signal from the mixer. A downside to active speakers is that each speaker must be plugged into an electrical outlet.
---
PA Speakers
As a mobile KJ you will primarily play in small to medium sized bars and clubs. Your standard setup will incorporate three PA speakers... two 2-ways and one subwoofer. I'm sure you've been to karaoke shows where the sound system had just the two 2-way speakers with no subwoofer and you thought it sounded pretty good. If sounding "pretty good" is alright with you then go ahead and leave out the subwoofer. If you want full range sound you must add the subwoofer. My suggested speaker array is two 15" woofer 2-way speakers on stands and a single 18" subwoofer on the floor.
Passive PA Speakers
These speakers need to be powered by a separate amplifier. Power handling rating will be in "program" (continuous power handling capability) and "peak" (transient power spike handling). Matching these speakers with amplifier power was discussed above.
Active PA Speakers
These speakers have their own built in amplifier and therefore require their own separate power source. They are naturally more expensive than passive speakers.
---
Microphones
Wireless microphones are a necessity with a professional karaoke system. You simply cannot have microphone cables strung around for drinking customers to trip over (and they will trip over them). You may have one or two wired microphones for certain circumstances as if a large group gets up to sing together. Many KJs have two sets of wireless microphones. A better and expensive set for themselves and good, responsible, singers and a cheaper set for those who a better mic will not help sound better and/or are more likely to drop them. I already have a
karaoke microphone
article so there is no point in wasting space by repeating it here.
---
Monitors and TVs
In many instances you will be connecting to a TV, or possibly a series of TVs, that are present at the venue. You should still carry your own TV or monitor with you. It should be no smaller than a 20" screen but not so big as to be difficult for you to handle by yourself. Modern TVs have a variety of video input options that may include composite, coaxial, HDMI, s-video, and others. But the one input virtually all TVs have is coaxial cable. The input that comes into a building that ultimately feeds all the TVs is coaxial cable in most cases. For these reasons, whatever the output type is that your player provides (composite, s-video, or VGA) should be converted to VHF which will allow you to connect to any coaxial connection. For the majority of karaoke disc players an
RF modulator
will do the job. Since virtually all laptops have VGA output you would need to add a
VGA to Composite Video
converter to go between the laptop and the RF modulator. I know what you're thinking but I have yet to locate a single unit VGA to VHF converter.
---
Karaoke Music
To me professional karaoke music means CD+G. Video backgrounds (DVD karaoke) are distracting to the singer and distract the crowd's attention from the singer. Midi karaoke is synthetic garbage that should only be used in toys. Also, by far the greatest number of karaoke songs are in the CD+G format. CD+G song tracks are found on
CD+G discs
and in the MP3+G file format. While most karaoke discs are out of production there are still plenty to found at online stores and auction sites. If you plan on going with a laptop and software there is a way to instantly obtain a large library of popular karaoke songs. The
PCDJ Karaoki
hosting software has a
Karaoke Cloud Pro
integration feature that allows you to subscribe to a library of over 10,000 popular karaoke songs for a monthly fee. The current price is $99 a month on a 12 month subscription. This is a great deal for the new KJ as buying a karaoke song library like this would cost an immediate investment of several thousand dollars. You download the entire collection to your own hard drive which eliminates the need for an internet connection at your gigs. Also see
Build a Karaoke Music Library
---
Keep in mind that this is going to be a mobile system which means you will want it to be quick to set up and take down. You will want to make sure that you can carry in and set up everything completely by yourself. I've seen some KJs consolidate the components to where a case would be too heavy for one person to carry and required a dolly. Don't make that mistake because you will run into situations where a dolly can't be used. There are many places to shop for your system components. We all know that
Amazon
is a THE place to find great deals. When it comes to great customer service, as well as great prices,
zZounds
is hard to beat.
Ace Karaoke
is the online legend when it comes to karaoke electronics and music. I have been dealing with them for many years and they have never let me down.
Article by Richard Wise. Follow me on